Skip to Content
BBQ Catering for Your Sarasota-Area Events
Don't waste "alday" in the kitchen. Alday's BBQ is honored to cater your event in Sarasota, FL. We offer self-service and drop-off catering options to meet your needs for any size of event. We'll cater our mouth-watering, fresh menu to you, whether it's a small gathering, company event, large wedding, or sports banquet. We're committed to cooking the highest quality of BBQ and sides while providing the highest level of customer service. You deserve the best from your caterers for your big events, so we're excited to help fill the mouths and tummies of your partygoers.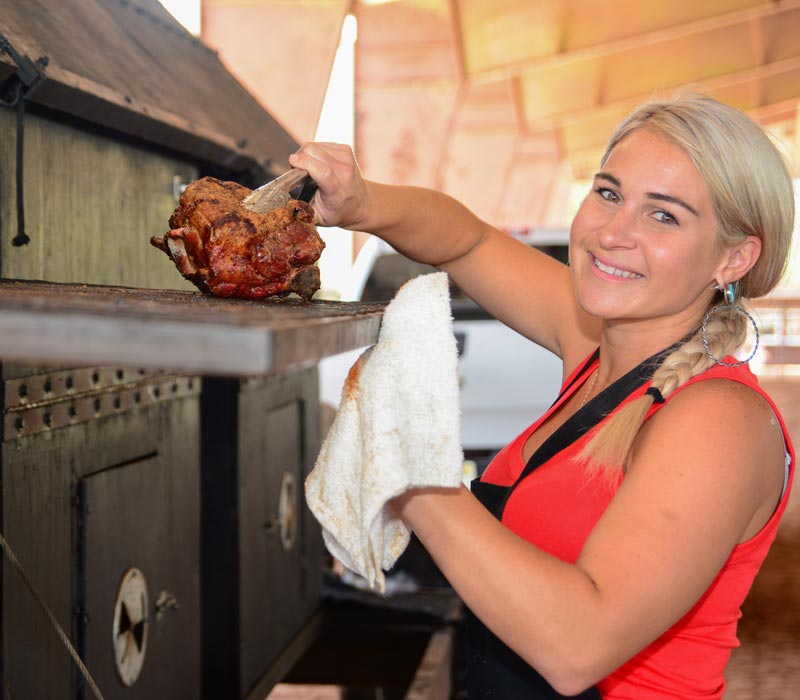 Customizing a Menu for Your Catering Needs
Our dedicated and trustworthy team caters fresh, juicy dishes to your guests. We cater to all sizes and types of events, including weddings, holiday gatherings, company events, private parties, celebrations of life, sports banquets, and more. Our experienced, friendly professionals will help you every step of the way. The most important things we need to know from you are the date of the event, the number of guests, the location, your budget, and your serving style. We'll customize a menu to meet your needs. After we receive this information, we'll prepare a detailed proposal for you. Whether you're hosting a small or large gathering, we're here to meet all of your catering needs. All you need to do is show up hungry!
Drop-Off vs. Buffet-Style Catering
We offer drop-off and buffet-style catering for all of your events. Drop-off catering is usually reserved for smaller, casual events. We typically set up the tables and deliver the food. Guests get to serve themselves as they wish. Buffet-style catering is usually reserved for times when the host wants to sit back and relax, letting us handle the tough stuff. It's a less formal style of catering than a plated dinner service, but you still get all the great food. You'll have the opportunity to chat as you serve yourself our scrumptious BBQ and sides. Everything is prepared and set out for the guests to choose what they love in the buffet atmosphere.
Drop-Off Catering Menu
Priced by the pound.
Meat & Fish
Pulled Pork
Baby Back Ribs
Spare Ribs
½ Chicken
Whole Chicken
Salmon
Baked Beans
Potato Salad
Cole Slaw
Rolls
Mac & Cheese
Green Beans
Event Catering Menu
Priced by the number of guests.
Meat & Fish
Pulled Pork
Baby Back Ribs
Spare Ribs
½ Chicken
Whole Chicken
Grilled Salmon Filets
Beef Brisket
Hot Dogs
Hamburger
Prime Rib
Ribeye Steak
Porter House
T-Bone
Filet Mignon
Baked Beans
Potato Salad
Cole Slaw
Mac & Cheese
Corn Bread
Sandwich Rolls
Dinner Rolls
Hawaiian Rolls
Garlic Bread
Brussel Sprouts
Collard Greens
Asparagus
Roasted or Grilled Green Beans
Roasted or Grilled Corn
Mashed Potatoes
Baked Potatoes
Baked Sweet Potatoes
Banana Pudding
Apple Crisp
Peach Cobbler
Chocolate Delight
We were lucky enough to have Alday's BBQ cater our rehearsal dinner for our wedding at Lido S Park, and we couldn't have been happier with the food and service. They pulled their large smoker right up to our party and set up the tables and served the entire party. They were extremely gracious, treating us all great! The meat was incredible and a huge hit with everyone. I would recommend Aldays to anyone!
We had Alday's BBQ ribs for our gathering. Everybody loved it. I will be back!
Alday's BBQ catered our wedding and we could not have been happier! The food was a hit with all the guests, we got many compliments on how good the food was. They came early in the day to set up as not to disturb during the ceremony hour and pulled the smoker right up to the reception on time. Staff very friendly, served everyone, catered all needs, and cleaned up in very timely manner. Highly recommended!!
Let Us Do the Cooking Tonight!