Skip to Content
Serving Mouth-Watering BBQ in Sarasota, FL Since 1981
For over 40 years, Alday's BBQ has served the Sarasota, FL area with our mouth-watering BBQ. After cooking up first-rate BBQ since 1981, our owners, Jeff and Lisa Alday, know how to perfectly season and slow-cook BBQ to bring out the best taste. We have multiple locations, including a BBQ Wagon and catering service to meet your needs. We offer a variety of smoked meats, including spare ribs, chicken, baby back ribs, brisket, salmon, and pork. All of our sides are homemade and fresh, including a roll to top off a perfect meal. Besides our meat and sides, we're known for our sweet, creamy banana pudding.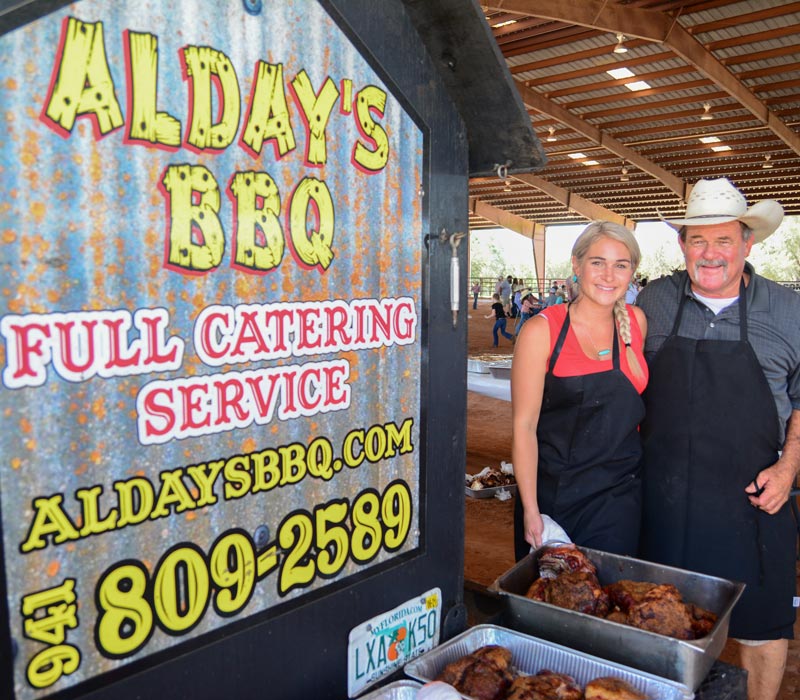 Providing Catering and BBQ Wagons
We provide catering and BBQ wagons to the Sarasota, FL area. No party is too large or small for our professionals. Our catering services offer full- and drop-off options so we can meet the needs of any event. We're committed to providing the highest level of customer service while cooking the best quality of BBQ and sides for your event. Our most popular catered events are company parties, personal gatherings, holiday fun, weddings, celebrations of life, and sports banquets. If you want to experience our savory food at one of our BBQ Wagons, walk on up to the window and order a piece of heaven. We offer a full menu of our fresh meats and homemade sides with banana pudding for dessert.
Going Beyond BBQ
We don't stop at delicious BBQ. Authentic Southern cuisine is nothing without delectable sides and savory desserts. Homemade sides like chunky potato salad and baked beans complete this gourmet-tasting meal. During the holiday season, we extend our BBQ expertise to turkeys. We offer four different sizes from 12 to 24 pounds to complete your Thanksgiving menu. You can also find us at local fairs smoking our famous juicy turkey legs. We want to be a part of your family by offering only the highest quality and best BBQ and beyond.
Let Us Do the Cooking Tonight!