Skip to Content
A Tasty Experience at Our Sarasota, FL BBQ Wagon
Alday's BBQ's BBQ Wagon in Sarasota, FL bring a heavenly taste to the mouths of our customers. Walk right up to the window to get the best BBQ in Florida with a side of exceptional customer service. Our Southern "cracker" style BBQ dipped in sweet mustard sauce will leave you wanting more. Pair our BBQ with a side of homemade macaroni and cheese and boiled green beans. You also cannot leave the window without a dose of our fresh banana pudding. Best of all, we love meeting our customers and making your dreams of the perfect BBQ come true.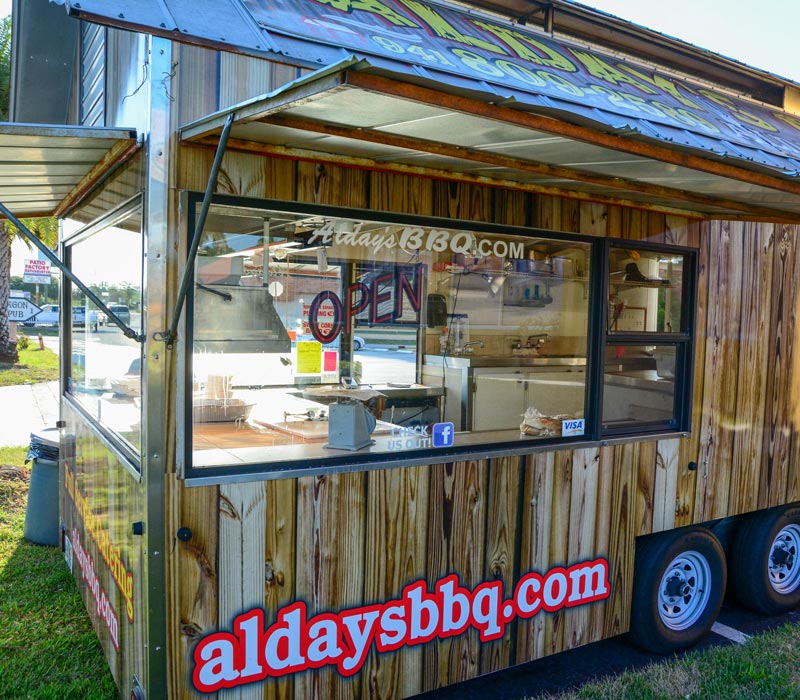 Why Foodies Fall in Love With Our BBQ Wagon
We've served BBQ for over 40 years, and the BBQ Wagon trend keeps rising. Our BBQ Wagon boosts customers to a new level of customer service and taste options. There are hundreds of reasons to love it, including:
The food is fresh, cooked on the spot.
We can always move the wagon to another location if needed.
The food is always unique with a particular personalized spin.
You get to meet and talk with the chefs about their creations.
You get gourmet food without the huge price tag.
The convenience of a BBQ Wagon is much better than a crowded restaurant.
Offering Creations By Our BBQ Wagon Magicians
We call ourselves the magicians of BBQ. Our BBQ Wagon allows us to create and share our BBQ perfections with customers. When you order at our BBQ Wagon, our talented chefs can make precisely what you want right there. If you want more or less of our sauces and rubs, they're happy to customize your meal. All of our food is made fresh, and our meat is always slow-cooked to perfection. Our BBQ Wagon allow customers to become part of our BBQ family. Come visit us so we can share our delectable BBQ, sides, and desserts with you today.
BBQ Wagon Menu
Cash only price. Taxes included in price.
Sandwiches
The best bbq around hands down! If any of my friends ever ask where to find good bbq I always recommend this place!
This is my favorite bbq food truck. They have been in the Sarasota area for as long as I can remember and I have never been disappointed. This is a treat for the whole family!
Let Us Do the Cooking Tonight!